Player of Guitar
Playing in the photograph above with two of my brothers and a brother in law, on a boat on the Thames, in celebration of my parent's golden wedding anniversary in July 2000.
I sing and play in local acoustic clubs, and around campfires in the summer. I make no claim to be a songwriter, or a singer either really, but I love singing - with apologies for the quality of the recording, which is mostly done in my kitchen on a small audio device.
My two favourite acoustic clubs at the moment are the
Beacon Acoustic
which meets monthly at the Waggon and Horses, just north of Shepton Mallet and
Mr Punches
, which meets fortnightly at the New Inn in Wedmore.
Often, as well as playing my slot, I will either sit and knit, or draw draw the other performers. There is a gallery of my folk club sketches here - quite a difficult thing to capture, as they are only there for a few minutes, and they are moving about the whole time!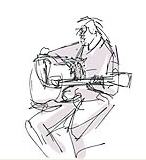 I have three guitars - a Martin Shannandoah, which I bought in the early 80's - at the time the bottom end of the Martin range, but still £700ish, and a great guitar, made in America with bits from Japan. It had been stolen from Duck Son and Pinker in Bath, returned, battered, by the police, and was on sale at a bargain price.
Before this I had a beautiful Yamaha six string, very nearly as beautiful as my Martin, which I passed on to my cousin Andrew, and a 12 string that I bought when I was a teenager. I remember being taken on an Art trip to London when I was in the lower 6th. Instead of going around the museum as I was supposed to, I sneaked up the Tottenham Court Road to where all the music shops are, to find myself a guitar.
I have a beautiful spanish acoustic which I acquired in 1984. Some student at school had left it in the boarding house over the summer, and no one know who, so I am technically looking after it until it's owner comes to claim it!
My third guitar was a Fender Stratocaster Plus from the 70's. I didn't play it much, but now and again I had a phase. It is a beautiful guitar - I was in a small band once for a school performance of Godspell!
But then I sold it to raise some money for may new guitar - a very beautiful hand made acoustic made by Jonny Kinkade -
http://www.kinkadeguitars.co.uk
And I have a Martin travel guitar that I bought for £60 from a car boot sale - fallen of the back of a lorry I suspect... but someone has to love it.