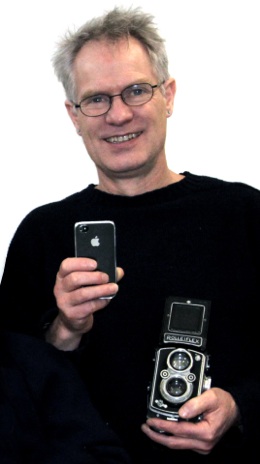 My name is Ross Wallis
I was Head of the Arts faculty at a Quaker Independent school called Sidcot for 35 years, and have recently retired. I have been involved in encouraging the use of digital technology from the days of word processing the school magazine on a BBC, through one mb floppy disk booting Amiga's, to the present age of smartphones, mobile and cloud technology.
Much of the computer work that was been done in my department in the past was restricted to small groups or individuals who have a particular interest in using computers, or to supporting our teaching with slide shows, internet access. CDroms, scanning, administration, etc. but in the recent years I became increasingly interested in using computers with whole groups of students at all ages, and encouraging students to work in groups. There is a great power in digital photography, digital video, animation, and internet based collaboration. I had trouble getting students out of the doors at the end of lessons! The challenge is to encourage artistic merit without quashing the enthusiasm. Most recently, in these days of mobile technology, is to encourage students to use their own devices.
I was involved in a project initiated by Hewlett Packard who donated some excellent HP kit to the department. This pan European project called @rtexchange, looked at the possibilities of sharing creative work and encouraging artistic collaboration using the internet. This project involved the organisation of several conference in various European countries, France, Sardinia, Galway as well as the UK. Over the year I have given many seminars, starting with one at the Watershed in Bristol on the theme of digital art in the classroom. Following this I did a series of workshops for the 'Excellence in Cities' initiative, working with groups of teachers and students from Bristol schools. Subsequently I have organised and run workshops in London, Bristol and Newcastle, participated in 'Creating Spaces'; the Arts Council research project on the use of digital media in schools and I have presented for both Apple and Adobe at the annual Bett show as well as giving seminars on the @rt exchange project and on my own practice. Long ago I created an interactive CD rom on introducing digital technology to the art department. I was short-listed twice for a Becta practice award, reaching the final six in the collaboration category for the Art Exchange work, but it was perhaps more appropriate that two of my students managed to come first and runner up in the still image category of the students competition. On the back of this success I did three workshops for Becta, and was asked to be a judge for the student competition.
I ran a mobile Apple Regional Training Centre at Sidcot School
I am an Apple Distinguished Educator and an Adobe Education Leader.


I have recently completed an MA in Interactive Media at the University of the West of England.
From now on, who knows? But I am currently doing a lot of online teacher teaching of Adobe software and technology.